There are a number of factors to consider in selecting the best sales speaker for your next sales meeting or conference. If you sense morale is waning, then a motivational sales speaker who can re-ignite passion and purpose among the sales team may be the perfect solution to boost performance.  A motivational sales speaker is typically engaged to generate an immediate response among presentation participants, boosting enthusiasm and energy while delivering relevant, practical content.
If you determine that your sales force would benefit from enhanced sales skills or strategies to compete in today's ever-changing marketplace, then a sales strategy speaker or a sales skills speaker who can impart wisdom and insights for practical application may be most beneficial. This type of "educational" sales speaker is also motivational, but rather than focusing on attitude or emotion, he or she will equip the audience with new skills or information which leaves sales professionals energized to put their newly acquired lessons into practice.
Below are a few of our top sales speaker recommendations for sales meetings and conferences to help you get started in your speaker evaluation and selection process:
Jaynie L. Smith is an internationally-recognized keynote speaker specializing in the topic of competitive advantage. Content-rich presentations illustrate her proprietary process of uncovering and touting a company's relevant competitive advantages. Keynotes are focused on showing attendees how to gain market share by revolutionizing the way they articulate and communicate their business messages to sell value over price.
It is fairly easy to achieve sales success in America because so many are satisfied with mediocrity. What can you do to stand out from the competition? What simple things can you put into a sales success system to get customers to say WOW, be loyal and refer you to others? Chip Eichelberger shares the ideas harnessed from his experience and from his research with his hundreds of clients.
Jill Konrath's career is defined by her relentless search for fresh sales strategies that actually work in today's business environment. She's the author of two bestselling sales books and is a popular speaker who helps sellers crack into new accounts, speed up sales cycles and win more business.
Neil Rackham is known throughout the world as a speaker, writer and seminal thinker on sales and marketing issues. He is truly a living legend in the world of consultative selling. Three of his books (including SPIN Selling) have been on the New York Times bestseller list and his works have been translated into over 50 languages.
What do the greatest sales coaches and sales leaders do differently? Former Executive Vice President of Sales turned speaker, author and consultant, Scott K. Edinger is a recognized expert in helping organizations achieve measurable business results. He has worked with some of the most prominent organizations in the world including AT&T, Harvard Business Publishing, Bank of America, Lenovo, Gannett and The Los Angeles Times.
Scott engages corporate executives, business owners, sales representatives, company associates, organization members and college students alike with his brutally honest, no-holds-barred style which promises to get audiences Fired Up & Ready! In business, Scott Toland has had his own name and his own money on the line since the age of 16. With an unwavering commitment to always working toward reaching the next level, Scott leads by example with his energizing enthusiasm and unbridled creativity. He embraces opportunities and faces challenges the same way; free in thought and steadfast in purpose.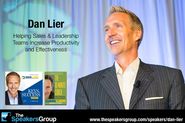 Dan Lier is a best-selling author and internationally recognized sales, leadership and motivational speaker with the experience of presenting over 3,500 customized talks to companies around the globe. He specializes in delivering an extraordinary, customized talk that will impact and entertain your next convention or corporate event. He is host of his own TV show "Your True Potential" and was a regular on HSN as America's Coach where he shares his "Strategies for Success" with millions.
Represented above is just a sampling of the sales speakers for sales meetings and conferences available through The Speakers Group. To help you select the ideal speaker for your objectives, please contact us at 615-526-6600 for a free consultation, or complete the form below for customized speaker recommendations for your event:
We look forward to working with you to lead your sales force into higher performance and productivity.