---
"If you don't have a competitive advantage, don't compete." – Jack Welch
Jaynie L. Smith uncovered the one key question that nearly 4,000 CEOs failed to clearly answer about their own companies: "What is your #1 Competitive Advantage?"
A competitive advantage is the key factor that Warren Buffet considers before he'll invest in any business. But with the ever-evolving business world making anything sustainable seem nearly impossible, many believe Michael Porter's original competitive advantage theory is now null-and-void. Jaynie Smith has proven otherwise, and has spent over 30 years sharing her established beliefs, with audiences and clients, on how businesses can grow by establishing relevant competitive advantages.
Jaynie L. Smith is an internationally-recognized keynote speaker specializing in the topic of competitive advantage. Content-rich presentations illustrate her proprietary process of uncovering and touting a company's relevant competitive advantages. Keynotes are focused on showing attendees how to gain market share by revolutionizing the way they articulate and communicate their business messages to sell value over price.
---
Is Jaynie Smith the right speaker for your event? Listen in as she answers some of the key questions on your mind:
---
Quick Reference Card
Your audience will:
• Discover the power of having and effectively using relevant competitive advantages
• Learn how the lack of competitive advantages relegates a company to compete on price – a strategy destined to seriously hinder growth and margins
• Find out why touting competitive advantages will increase sales, profit margins, and market share – even in an economic downturn


*Speaker fees vary based on event location, program duration and other factors, and are subject to change without notice. Please contact us for an accurate fee quote for your event.
---
Warren Buffet, the most successful investor of the 20th century, will only invest in companies that can claim to, and support, a competitive advantage… So why is it when Jaynie Smith asked over 4,000 CEO's to name their #1 Competitive Advantage, less than 10% were able to identify a compelling differentiator?
The companies who will survive, and thrive, during these challenging economic times will be the ones who know their competitive advantages, and are able to communicate them effectively in their competitive positioning strategy.
Jaynie has spent years developing, testing and proving her theory on competitive advantages. She's developed such a passion for helping companies effectively articulate their value, that she has committed her entire speaking career to the topic.
Jaynie is internationally-recognized and an award-winning business keynote speaker dedicated to teaching audiences:
The power of having and effectively using relevant competitive advantages
How the lack of competitive advantages relegates a company to compete on price – a strategy destined to seriously hinder growth and margins
That touting competitive advantages will increase sales, profit margins, and market share – even in an economic downturn
Jaynie is personable, humorous, and uses first-hand case studies in her keynotes to show leaders and industry professionals how to uncover and tout their competitive advantages. Her presentation is content-rich and focused on giving attendees a new way of understanding their business, and new tools to compete more effectively.
No other speaker gives your audience as much as Jaynie L. Smith, with a message as important and timely as a relevant competitive advantage.
More of Jaynie's career highlights:
Author of the best-selling business book Creating Competitive Advantage, published by Doubleday Currency (2006) – now in its 13th printing – and Relevant Selling, published by Executive Suite Press (2012) and in its 3rd printing.
40,000+ hours experience consulting CEOs
17 Top Performer Awards for CEO coaching
Featured in Entrepreneur, Industry Week, Investor's Business Daily, NY Enterprise Report, Business Strategies Magazine, Sales and Service Excellence, Profit Magazine, New York Times, PGA Magazine, Whole Foods Magazine among many other magazines and newspapers
20+ years experience working with Fortune 500 companies
Appeared on several TV business shows including FoxBusiness.com, ABC World News This Morning & MSNBC
Hosted Mind Your Biz Today on 880AM The Biz – Online radio show offering business advice for South Florida's only business radio station.
Selected by TEC/Vistage, an organization of 14,000 CEOs worldwide, as one of the 50 most influential people of their first 50 years
Her Competitive Advantage proprietary workshop was selected as one of the leading new courses for the 2007 curriculum for the American Management Association
Selected to deliver Microsoft Office Live Seminars 2007 with speakers such as Michael Gerber, Stephen Covey, Marshall Goldsmith, Jack Canfield & Jim Kouzes
Guest on Bloomberg Radio, WABC Radio "Brinker Show,"& NPR affiliate WLRN among scores of other radio shows
Featured in telecast with Jay Conrad Levinson of Guerrilla Marketing Association
Contributing Business Expert Columnist to Affluent Magazine
Undergraduate and Master's degrees from the New York Institute of Technology, Graduated top of class 4.0
Think You Know Your #1 Competitive Advantage? THINK AGAIN!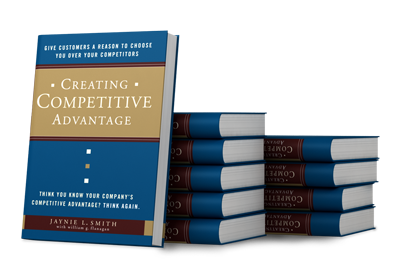 Based on her best-selling business book, Creating Competitive Advantage, Jaynie's presentation enthusiastically conveys what a competitive advantage is (and more importantly is not), what prevents businesses from identifying their own, along with the profits that are forfeited when they fail to do so. She provides the framework for uncovering and touting your own competitive advantages to measurably increase your companies' customer retention and sales close rates.
Increase Profit Without Lowering Price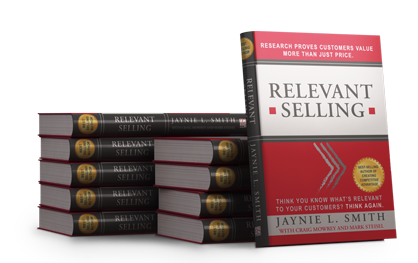 The pressure to lower prices has never been greater than in our current economic state. This presentation, based on Creating Competitive Advantages' newly released companion book, Relevant Selling, will prove that you don't have to! Customers will pay more for value… the problem is, most marketing and sales efforts fail to convey what customers value. As a result, customers revert to price as the tie breaker in the buying decision.
Why Should I Buy from You And Not Your Competition?
This presentation enlightens even the most seasoned business professional. Based on both of Jaynie's books, this keynote introduces the topic of dangerous disparity. Most companies consider themselves 'customer focused.' This talk will prove to you how the majority of businesses are missing the mark. In her study of over 100 companies, regardless of company size or product offering, 90% of what these businesses were offering greatly differed from what their customers valued. Jaynie passionately advises her audience on the steps your company needs to take that will build confidence, remove risk, and minimize price as an issue in the buying decision.
"Outstanding! Jaynie L. Smith provided a memorable speech to the graduate business students by sharing her unique views on creating a competitive advantage, as well as her real industry experience. Ms. Smith encouraged students to relate to the topic by focusing on how they can create a competitive advantage for themselves when starting their careers. The students really appreciated her time and have come to understand the value in creating a competitive advantage!" — President, Graduate Business Student Association, Nova Southeastern University
"Jaynie's presentation is dynamic and leaves you pondering "what is our Competitive Advantage" and what are my people selling? Clarity in messaging for our sales people has a greater opportunity to make a sale and deliver clear promises to our clients." — CEO, Food For Thought Enterprises
"Jaynie was a very dynamic speaker and was totally engaging. One of the best speakers we've had." — Human Resources – American Foundry Society
More content
comes in this tab.